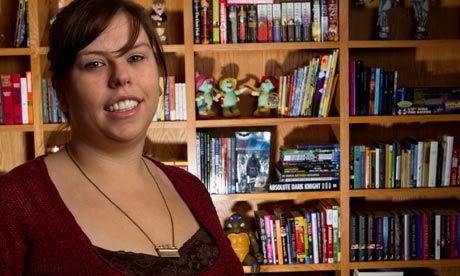 Living paycheck to paycheck, writing novels in her spare time, rejected by publishers all over New York,  Amanda Hocking became a millionaire in her twenties self-publishing her books on Amazon kindle.
Here is how she did it.
Beginnings
Amanda was brought up in Austin, Minnesota.  Her father was a truck driver and money was tight. She was depressed most of her life.  Since they couldn't afford cable TV. Amanda was immersed in books.
She says "So I read a lot. I would go to the library, or get books at rummage sales. I got through them so quickly I started reading adult books because they were longer. I remember my mom giving me a box set of five books to last me all summer; I devoured them all in two weeks."
By the age of seven she was reading Jaws by Peter Benchley and books by Stephen King. Michael Crichton, JD Salinger, Shakespeare, Jane Austen, Mark Twain, Jack Kerouac, Kurt Vonnegut and many others to feed her insatiable appetite.
This was her way of coping with the depression that troubled her. She says "I was always depressed growing up. There wasn't a reason for it, I just was. I was sad and morose. I cried a lot, I wrote a lot, and I read a lot; and that was how I dealt with it."
Writing her first book and struggles with publishers
At the age of 17, she completed her first book "Dreams I Can't Remember". She was so excited and gave it to her friends and family, She also sent it to several publishers. No publisher accepted them.
She says "I got rejection letters back from all of them. I don't blame them – it wasn't very good," "I was whiny and depressed and thought life was going to be handed to me."
The Realization that turned her life around
One day she was watching YouTube and she saw the video where  the co-founder of  a band Blink-182's Mark Hoppus was talking to Fall Out Boy's  Pete Wentz. ..another band's musician.
It was short and simple, Mark encourages all the kids out there to make their dreams come true. "I was like, That's it!" Amanda said. "This whole time I've had a passion and I've waited for it to happen. I need to do it."
She went into overdrive. She was frantic to get her first book published by the time she was 26, the age Stephen King(the famous non-fiction writer) was first in print, and time was running out.
This is when she started treating her writing as serious and committed to write regularly. After this, She wrote even if she didn't feel like writing.
So while holding down a day job caring for severely disabled people, where she earned $18,000 a year, she went into a heavy-hitting frenzy of writing at night, starting at 8pm and continuing until dawn.
Over the next year, she wrote " at least five or six new novels." Sometimes , she could write a complete novel in just two or three weeks.
These books were like her earlier books i.e romantic novel except they were more cerebral and less "fun.
She was still developing her technique.
Figuring out what type of books would sell well
She decided to do some research to find out what type of novels are bestsellers for young adults.
After studying bookstore shelves and researching the industry to see what was published, as well as reading lots of young adult novels, Amanda figured out that romance was evergreen when it came to popularity, but that paranormal elements really helped books take off.
That is when she started writing romance novels with a paranormal element. She wrote "My Blood Approves" and its sequels. She wanted to be more different than the other novelists.
So, instead of vampires, she started moving towards including trolls(supernatural beings) in her novels. She did not like trolls at all.
She says "they kind of freaked me out" but when she ran across a line in her research that said they could sometimes be attractive, she decided to rethink her position. "They're not so common, and I thought: No one else is doing this. Let's go for it."
She made quick progress. Her actual time spent writing a novel, she said, is two to four intensive weeks.
More Rejections
Still, she continued to receive nothing but rejections from New York. "There were a couple days where I was like: I'm giving up. This is horrible. I'm never going to be able to do it." She sighed. "I sent off my last letters to them at the end of that year."
Her desperate attempt and trying e-book publishing
Since no publisher was accepting her, She decided to try e-book publishing. Two months later, she uploaded one of her book "My Blood Approves" to the amazon kindle store.
About a month later, following the tips from JA Konrath, an internet self-publishing pioneer, she also uploaded to Smashwords to enable her cater to the Nook, Sony eReader and iBook readers. Typically her books cost between 99 cents and $2.99
She was skeptical it would sell. She says "I didn't have a lot of hope invested in it. I didn't think anything would come of it."
Her success 
The first day, she sold five books. The next, five more. She says "I took screen shots a lot,". Sensing the interest from her readers, she uploaded another novel and sold a total of 36 books one day in May. She says "It was like: 36 books? It's astounding. I'm taking over the world." In the fourth month, she earned $6,000 in pure profit.
Soon she started selling hundreds of books a day. That June, she sold 6,000 books; that July 10,000. "And then it started to explode. In January, it was over 100,000." Later she was selling 9,000 books a day.
Amanda was at a loss to explain the phenomenon. She says "I've seen other authors do the exact same things I have, similar genre, similar prices and they have multiple books out. And they all have good covers. And they're selling reasonably well, but they're not selling nearly as well as I am."
It is because of the formula she concocted and the stories resonate personally well with her. She attributes this to a friends advice.
Prior to her publishing to amazon, One day her friend told her "These books you're writing are not you. You're forcing yourself. That's not who you are. You're a silly, fun person who likes silly, fun things. Stop trying to be a dark person.".
She took his advice to heart and started writing novels which resonated personally. She sums up the difference between her books and other authors like this.. "Theirs are not actually character-driven, they're not books about people.People are just used to explain an idea. And my books are about people — who might happen to have ideas."
Amanda quit her job and is a millionaire now.
Even though her success seems to be overnight, it is not. she has been writing for a long time. published 17 books and got rejected from publishers. She spent hours and hours dealing with technical glitches with kindle, creating her own covers , writing a blog, Working on Facebook and twitter to attract fans and followers.
She signed a book publishing deal with St Martin's Press a traditional publisher for 2.1million and also bought a new home.